Go to www.CertifiedMailLabels.com Login with your email and password.
Create a Single Label. From the red navigation bar go to Address Letters, then click Single Label and follow the 3-step process.

Step 1. Return Address: Will default to your profile. Edit these fields if needed.
Step 2. Delivery Address: Fill all starred fields. (*)
Step 3. Mail Options: Choose your USPS delivery services, Envelope type and weight.

Preview & Print your Label. Click the 'Preview' button then print to your printer. Print your label on plain paper.
Click Purchase & Print to buy this label. Fold then insert the Label into the Certified Mail® window envelope. Insert your documents behind the address label, seal the envelope and drop into any USPS Mail receptacle or give it to your letter carrier.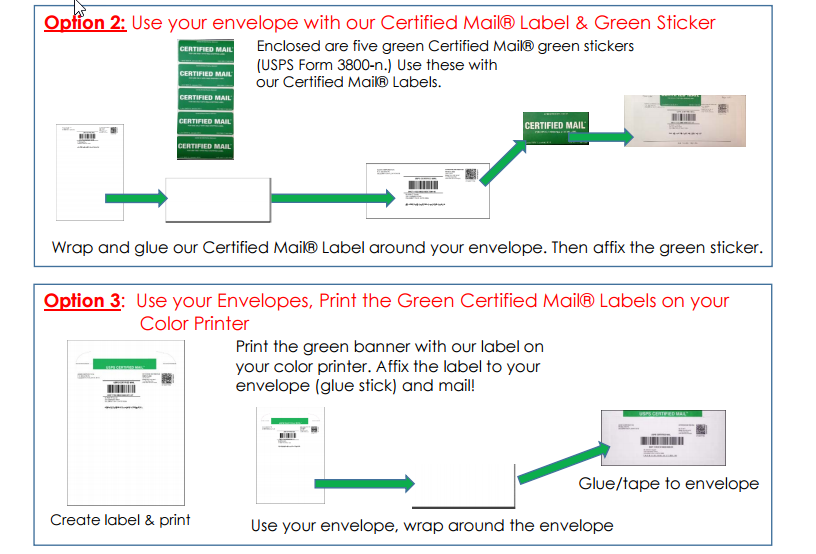 Other Options on our website:
Create Batch Labels in Excel – Do you have a large mailing to get out? Create a batch using our Excel File Import Template. Generate them all at once in minutes.
Upload PDF Letter – An easy 1-2-3 step process to mail your letters today!
Custom Work Order – Our concierge level of service. This provides customized data processing, color printing, and full service letter shop service to meet your compliance requirements.
Compliance Reporting & Tracking: There are multiple reports that allow you to monitor your compliance and delivery mail. USPS tracking is updated hourly, email delivery notification, summary Excel downloads, FTP access and more! We securely store all your data for 10 years and provide 24/7 access!
Click the Feedback & Support in the top right corner at: www.CertifiedMailLabels.com If you can't find your answer online, don't hesitate to call: 800-406-1792
I can do all this through him who gives me strength. Philippians 4:13